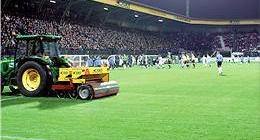 Grass on demand, when time is running out.
SOS is the ideal solution for a quick recovery of your sport pitch. It takes half the time to recover after overseeding and it can be used during the entire season, even when soil temperatures are low. In temperatures from 6°C and up it germinates extremely rapid establishes quickly. This means that after a short period of recovery the playing season can be extended with additional playing hours.
About SOS
SOS was originally founded and introduced in the United States in 2006 by Barenbrug, where it immediately became a popular variety for sports fields. After the introduction SOS was brought to several countries including the Netherlands in 2008, where it was adopted by the majority of Holland's premier league Football clubs.
SOS at FIFA World Cup 2010 in South Africa!
In April/May 2010, about four weeks before all national teams arrive in South Africa, all training pitches of the 32 'Team Base Camps' were overseeded with SOS grass seed. SOS guarantees fast establishment and perfect density of the pitch, even during the South African winter when frost is not uncommon at areas at higher altitude. Thanks to this unique quality, all football pitches will be ready for the numerous training sessions.
SOS wins the innovation prize
SOS won the prestigious Demo Days Innovation Prize in 2009 for being the most innovative product in turf. Since its introduction in the Netherlands, where some of the worlds finest football is played, nearly every stadium of every football club has been repeatedly seeded with SOS.
SOS takes market by storm
After its introduction SOS took the professional turf market by storm. Besides the Netherlands several European premier league football clubs have started to use SOS to their satisfaction. Not only football clubs have discovered the advantages SOS has to offer; varies of sports fields have started using SOS. Prestigious golf courses like those in the Ryder cup, horse racetracks and many other disciplines of sport benefit from SOS as it provides them with more and better playing hours.
Testimonials
"SOS has saved us a great deal of money"
Remy de Milde, Field manager Feyenoord, Rotterdam

"I couldn't believe my eyes"
John Gozeling, Gozeling Landscaping, Velserbroek

"The speed of germination was surprising!"
Jean-Louis Lange, SC CUMAVAUX , Villiers-le-Bouillet

"SOS to the rescue"
Ian Fulp, Director of Kodiak Parks and Recreation, Alaska
OUR RANGE